Earlier this week, September 3rd, was the 59th anniversary of the 1964 Wilderness Act which established the BWCAW and 53 other areas as newly defined wilderness. The Boundary Waters Canoe Area Wilderness has since gone on to become one of the most well-known and widely-beloved wilderness areas in the country. In examining the BWCAW today, we wanted to look at it within this context. How does the BWCAW stack up compared to other federal wilderness areas? How does it align with the standards we usually define as wilderness?
Visitors:
As we look at a broad level, there are 806 defined wilderness areas in the United States. The majority of those wilderness areas are remote, further isolated by public land buffers surrounding them. Most are not destinations for visitors except for dedicated climbers, long-distance hikers, or off-shore explorers. The BWCAW is different, and we see that in its number of visitors. Finding good visitation statistics for wilderness areas is difficult as wilderness areas, by their legal definition, are not managed by just one federal agency. Management of wilderness areas is split, generally dividing management into the agency in charge of surrounding public land. This includes the National Park Service, the US Fish and Wildlife Service, the Bureau of Land Management, and the United States Forest Service. The BWCAW, of course, is managed by the USFS which also happens to manage the highest number of wilderness areas with 448 under their jurisdiction. Of those wilderness areas, measuring visitor use can be a challenge as many do not require permits to access or use. The BWCAW, with its high annual visitation, does which makes user tracking easier. That said, the USFS estimates that they have over 8 million visitors to their wilderness areas each year. The busiest of those, of course, is our BWCAW. Last year, as outlined in the Permit and Visitor Use Report, over 150,000 people visited the BWCAW. This adds up to 1.7% of all annual visitors to the 448 USFS wilderness areas are visitors to the BWCAW, a pretty sizeable percentage when you think about it. This number can cause problems, at times, in the BWCAW's character as wilderness, something we'll discuss later in this article.
Size:
A well-known phenomenon in American public lands is that the average park/wilderness area/forest/refuge is larger west of the Mississippi than east. This is an artifact of when land preservation became a principal and what land was available to set aside. This principle holds true in wilderness areas with the top 16 largest wildernesses located in the west from the over 9 million acre Wrangle-St Elias Wilderness in Alaska down to the 1.3 million acre Adreafsky Wilderness also in Alaska. There are only two wilderness areas east of the Mississippi larger than 1 million acres in size: The 1,296,500 acre Marjory Stoneman Douglass wilderness in Everglades National Park and the 1,090,000 Boundary Waters Canoe Area Wilderness. Obviously, the BWCAW is small in comparison to the enormous Alaskan Wildernesses but, as the second largest east of the Mississippi, its ecological role is extremely important. Combine it with the 218,000 acre Voyageur National Park (NPS data) to the west and 1140000 acre Quetico Provincial Park (Ontario Parks data), the BWCAW is part of a larger 2.5 million acres of natural space! *side note*: If you look at some of the wilderness maps online, you will see the BWCAW listed with somewhere around 800,000 acres. This is because these maps only account for USFS acreage. There are MN-DNR inholdings that account for the remaining acreage.
Economic Impact:
The BWCAW is unique amongst wilderness areas because it has a tourism industry of its own which has developed around it. Many wilderness areas are part of a larger area such as a National Park. In those National Parks, the main tourism draw is the front country while the wilderness in the backcountry sees fewer, more determined visitors. The BWCAW has become a cornerstone of the tourism industry in the region with a study from Harvard University finding that out-of-region visits to the BWCA helping to sustain over 13,000 jobs in three counties. Another study by the Conservation Economics Insitute found similar job output generated by out-of-town visitors to the BWCA along with an annual output of $77 million dollars from those visits. By their metric, this number is nearly 10% of the financial contributions of wilderness areas nationally which was found to be $700 million. Since the BWCA is a permit-based wilderness area with high visitation, it generates revenue in a way more remote or more open-access wilderness areas cannot.
Visitor Origin:
This is, again, a difficult metric to compare as many wilderness areas do not have the data to compare with. I wanted to highlight this diagram from the Conservation Economics Insitute though since I found it fascinating. This map shows a distribution of a small percentage of BWCAW visitors. People come from all over the country and, in fact, the world to visit the BWCAW. This is likewise common in national parks such as Yellowstone and Yosemite, national treasures that are internationally renowned for their beauty. Wilderness areas, by comparison, are far less sought out in the outdoor recreation world, at least by the average tourist. The BWCAW has a way of being more accessible than say a high alpine wilderness area or a remote island off the coast, making it a destination for outdoor recreationalists from near and far.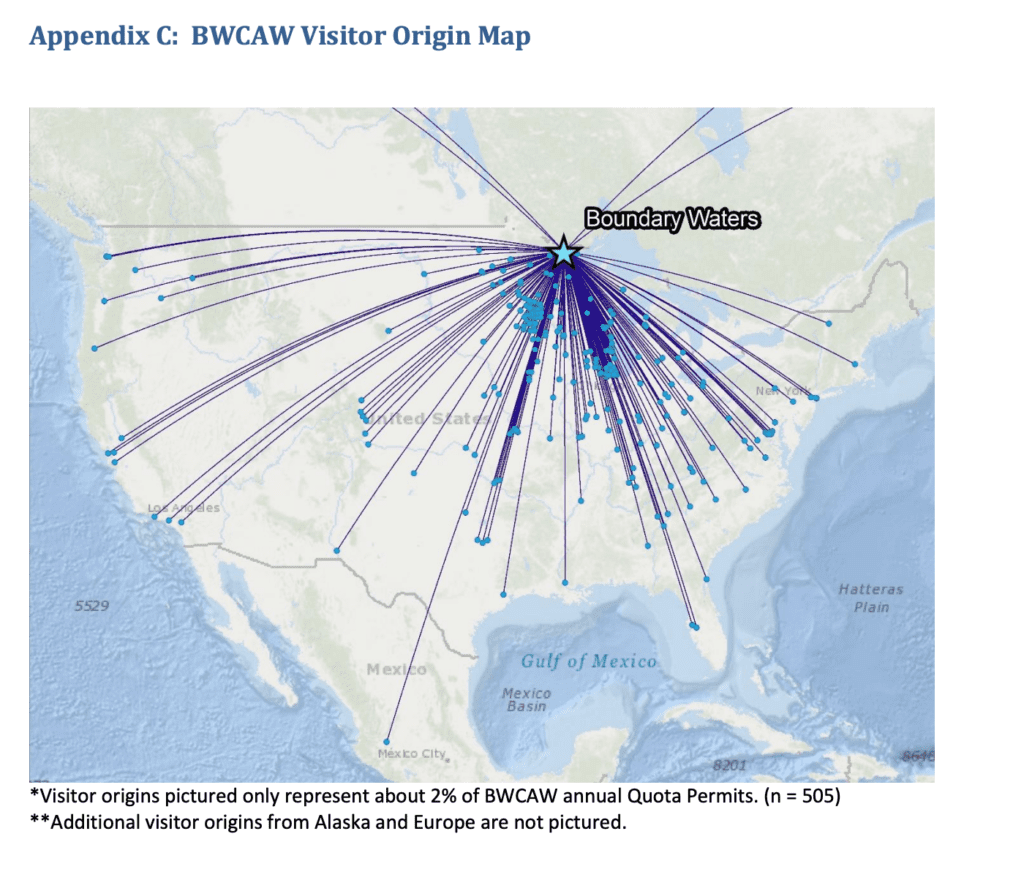 The Character of Wilderness:
These numbers above are all great and show the importance of the BWCAW culturally, economically, personally, and regionally, but what about wildness? Obviously, far-off wildernesses in Alaska feel and look wild but, in the BWCAW, is something lost in the wild character of a place when it's so beloved? Well, the USFS actually did a study on this very idea in 2017, and it's fascinating. They dove into the question of whether a well-visited wilderness like the BWCAW loses wilderness character with high visitation. In the study, they mapped essential pieces of wilderness character and the presence of these attributes within varying areas of the BWCA. The study is incredibly thorough in the variables it studied related to wilderness. The first section relates to natural processes and human-caused interruption of them, both past and present. These included fire suppression, fish stocking, prescribed fires, fish surveys, non-native plant treatments, water level manipulation (such as dams), animal manipulation, soil disturbance, fish spawn collection, vandalism, and poaching. These were given different "weights" in how they were quantified for the mapping data with issues that have been long-term ongoing or have widespread impact receiving greater weight. For example, in this section, fire suppression was given the highest value due to its long-term practice and wide-reaching impacts. Fish stockings and prescribed burns were also given high values. When all of this data was compiled, the data was placed into the below map showing warmer colors for areas that have been more degraded and thus have a lower wildneress value under these variables.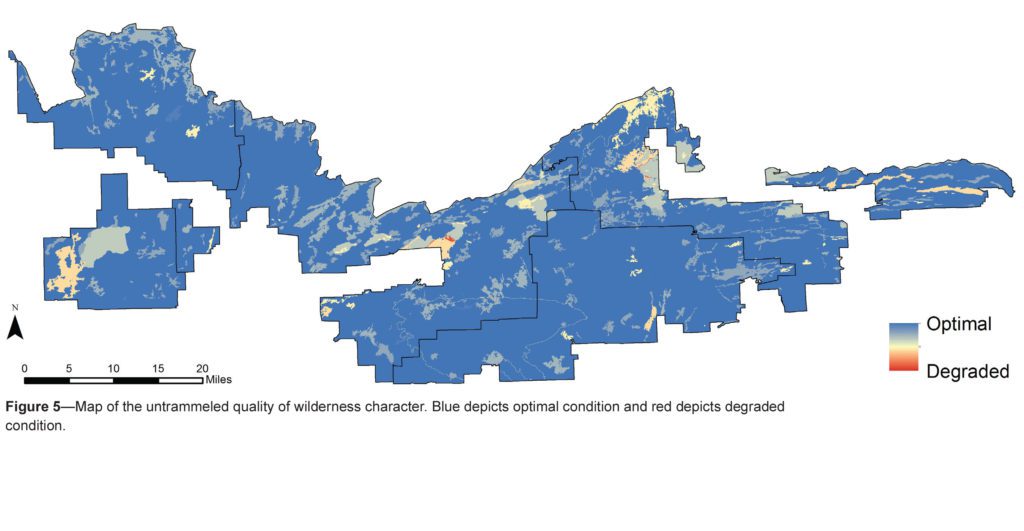 The study continued working through other natural functions before continuing on to visitor experiences of the wilderness area which included variables like motor usage, campsite availability, notice, presence of manmade structures, and even control of visitor behaviors. The latter was an intriguing one since the BWCAW is rated quite low in that regard since visitor travel and behavior being controlled by regulations is seen as a degraded "wild space" since, in a true wild space, one could travel and camp anywhere with little to no control mechanisms or previous traces visible. In the BWCAW's case, the control measures are in place for the protection of other wilderness characteristics, but still, it's an interesting variable. Each section had its own map similar to the one above. Once all that data was processed, they combined it into a single map as shown below.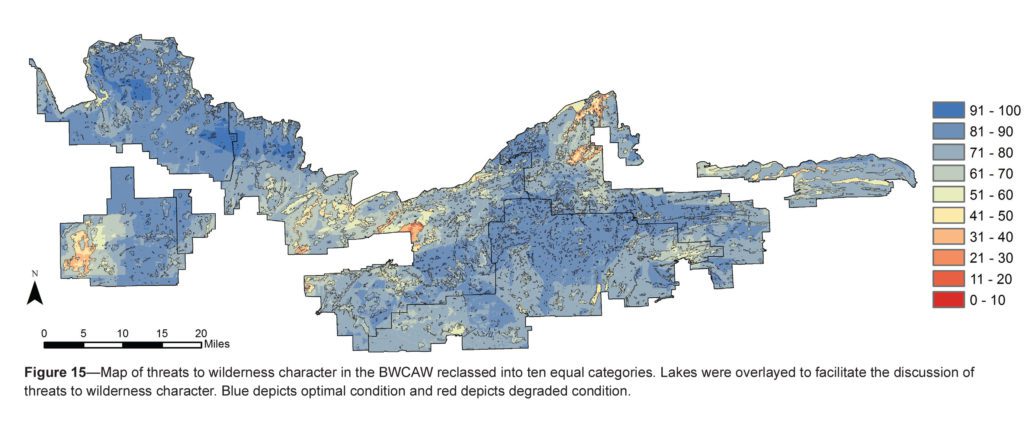 As one would have assumed, and this map clearly illustrates, there are areas of the BWCAW close to entries or part of motorized zones which show a degraded wilderness character according to the study while more isolated and remote areas show an increase in their optimal wilderness conditions. This makes sense as much of the BWCAW has human-use histories which other wilderness areas do not. It is also less remote and difficult to access.
So then, what is the takeaway? The BWCAW is unique amongst the wilderness areas of this country. It is, at times, wild and rugged as wilderness areas ought to be. There are dark, starlit skies where the northern lights still dance above ancient pines as the clearest lakes dash upon walls of stone. There is quiet and solitude to be found, though sometimes with difficulty. It is a complicated place beloved by many thousands of people who venture here every year for that sense of wildness and yet, in their devotion, contribute to that wildness' fragility and scarcity. There's a tourism industry tied to the wilderness which supports those people's search for this special place which elevates it in a way few other wilderness areas are. And I think each of these numbers provides perspective and a glimpse into what makes this place so special. There are over 800 wilderness areas found in this country, each selected for its wildness, beauty, isolation, and timeless character enshrining the earth at its most ancient, its most sublime, its most magnificent, and in its most hauntingly powerful and timeless state. These places endure in the highest federal protection offered by this country as Federal Wilderness Areas so that, as the original 1964 signer said, "If future generations are to remember us with gratitude rather than contempt, we must leave them more than the miracles of technology. We must leave them a glimpse of the world as it was in the beginning, not just after we got through with it."