The act of portaging between two waterways is usually, understandably, an intentionally short affair. Paddle to the closest point between two water bodies and then portage. This doesn't make it easy or "type 1 fun" every time, but it's the burden we bear for wilderness travel. Some portages stick with us whether they are steep (see our previous article), filled with obstacles like mud, brush, or boulders, or if they are gathered close together. Other portages seem to go on and on forever, and it's these longest of portages that this article is dedicated to. These are the 12 longest portages in the BWCAW, Quetico, and Voyageurs National Park. We will not be including the Grand Portage or the Dawson Portage for this article as they are well-known and are not in any of the areas defined above. For a good coverage of the Grand and other historically infamous portages, see our article on portages of historical significance. This list also doesn't include hiking trails that could be used as portages if one is imaginative enough. This list is only dedicated to the official, or recently semi-official, portages.

Anyways, portages like these seem to maintain an aura about them. They aren't simply another piece in a route, they are the portages that people plan their days around (especially if those people didn't have a really comfortable portage pack like the Outfitter 85.) They are the portages that people hype themselves up towards or that people voluntarily paddle miles out of their way to avoid. These trails single-handedly shape people's perceptions of their trips and of canoe country in general. Now, long portages aren't always the most challenging. Many are flat with few obstacles (though some, of course, exceed these expectations.) But for many people, these longest of portages are something to be avoided amid a pleasant canoe trip. It should be noted that portage distance measurements are notoriously inconsistent. Part of this is because portage trails change so much due to down trees, water levels, land ownership changes (for portages partially outside the wilderness), and dozens of other factors. Part of it is because the methods by which they were measured have varied over time. Pick up any two canoe maps and the length of the portages will likely vary as well as where the landings are located and sometimes even where the trail itself goes. It's all part of the mystery that is wilderness travel. However, that inconsistency makes ranking which portages are the longest pretty difficult. Since I do not have GPS tracks of each of these trails for a perfectly accurate number, the best I could do was to gather as many data sources as I could and take an average. For BWCAW portages, I have averaged data sets from Paddle Planner, BWCA.com, True North Maps, Voyageur Maps, and blog.canoemaps.com to get a hopefully decent number. Quetico portage lengths come from Paddle Planner, blog.canoemaps, True North Maps, and Voyageurs Maps and Voyageur National Park portage lengths come from Paddle Planner, the NPS, and All Trails. If a portage is on the list that is longer or shorter than you remember it being, I'm sorry! Remember, portage lengths can vary by the data set and the only way to get the true number is to measure it out yourself. Without further ado, here are my candidates for the 12 longest portages in canoe country: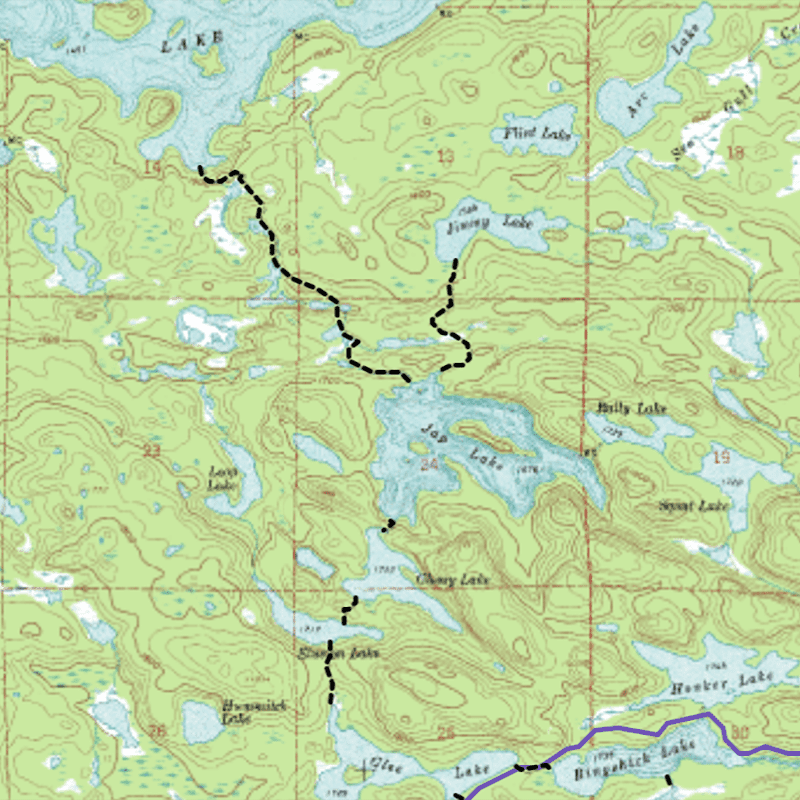 12: Seagull to Paulsen (Formerly J.A.P. Lake)
Region: BWCAW
Length: 455 Rods
I have personally done this portage in 2021 with an 18 ft aluminum as the start of a guided trip. I echo the stories I have heard about it (it's a beautiful hike but a terrible portage.) Many long portages aren't that difficult they're just long. Not this one! It honestly has every attribute needed to be one of the toughest portages in the BWCAW from steep topography, open rock faces, beaver dams to negotiate, beaver dams that act as false endings (mental strain), and of course the raw distance. It's also incredibly beautiful with the fire-charred landscape opening up miles of unobstructed views back towards Seagull and out into Paulsen. For length, it narrowly edges out the Stuart River entry portage. This portage is routinely marked as over 500 rods on many canoe maps, but most of the online maps have it in the 400s. Either way, I feel it deserves a place on this list as it's not only long but brutally challenging.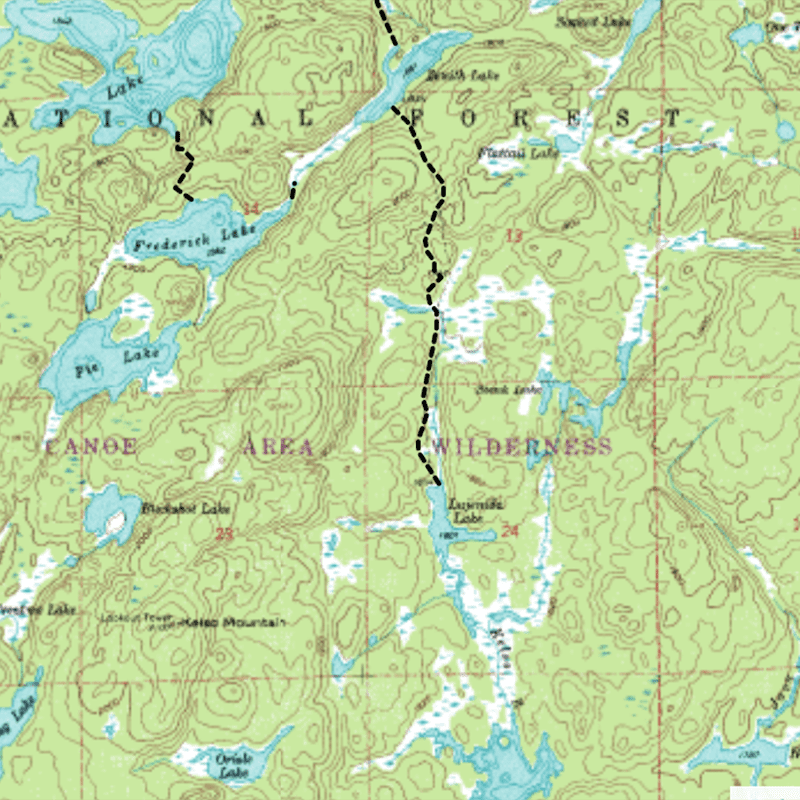 11: Zenith to Lujenida
Region: BWCAW
Length: 460 Rods
I haven't been back yet to do this trail in the summer, but I did have the opportunity to haul a sled back over this one (see trip report.) In any case, this portage acts as a worthy gatekeeper of quieter areas of the BWCAW like the Louse River. Folks entering Sawbill and looking over their prospective trip plans often choose to take easier routes northeast towards Cherokee or west towards the Lady Chain instead of tackling this monster and for good reason. The portage has plenty of slight ups and downs and a few wet areas over its mile-and-a-half course.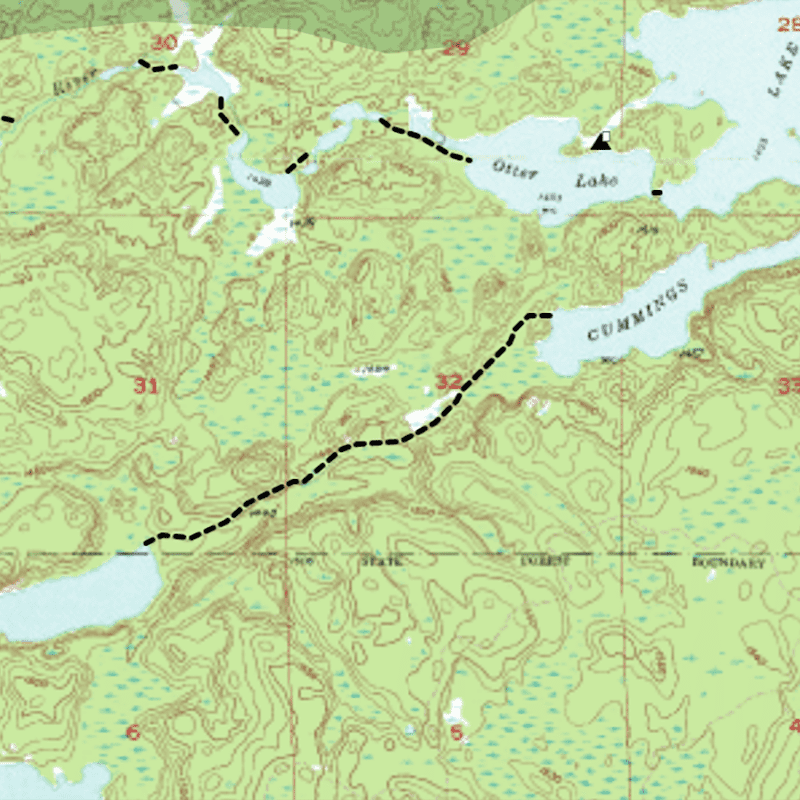 10: Cummings to Buck
Region: BWCAW
Length: 465 Rods
Long portages seem to flock together. There are areas of canoe country where the lakes just get a little further apart and there's no better example in the Quetico/BWCAW/Voyageurs than the western section of the BWCAW. A third of our featured list can be found in this section. The portages are mostly flat, but lengths over a mile are not uncommon. The Cummings to Buck portage is an interesting one as it leaves from a fairly popular base camping lake with Cummings to an out-of-the-way chain of small lakes to the southwest. Though the portage has a few rocky sections and muddy sections, it's relatively flat for much of its duration meaning the length is the greatest obstacle.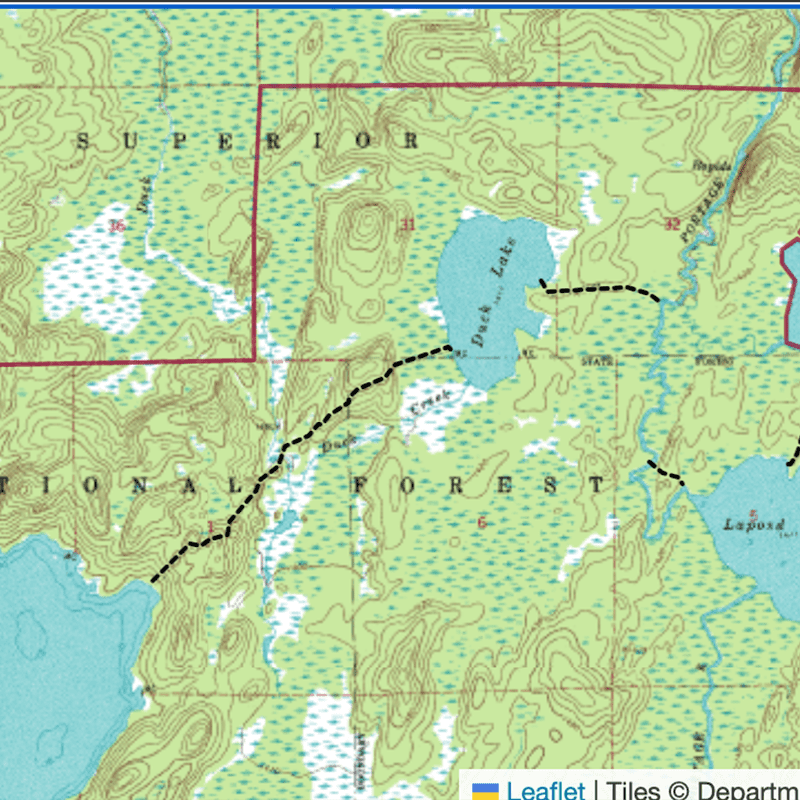 9: Duck to Big Moose
Region: BWCAW
Length: 472 Rods
Another portage from the western BWCAW, the Duck to Big Moose portage connects two smaller entry points in Moose River South and Big Lake. Both entry points cater to base-campers with large obstacle portages standing between canoeists and a travel route. The interest in this portage can be found in the crossing of Duck Creek. There also is an old logging grade that crosses the portage which may or may not still be visible in the regrowth. In any case, if traveling from Big Lake, there are a slew of campsites on Big Moose Lake but you'll be competing for them with folks who took a much easier route following the river. It's a lake that rarely fills up, but alternative campsites are a lot of portaging away. Traveling east from Big Moose means reaching Duck Lake which doesn't have a campsite. There is one on LaPond and one on Big Rice, but those are truly the only campsites for the Big Lake entry that aren't on Big Lake itself. That is unless you want to take another portage that you'll find next on this list!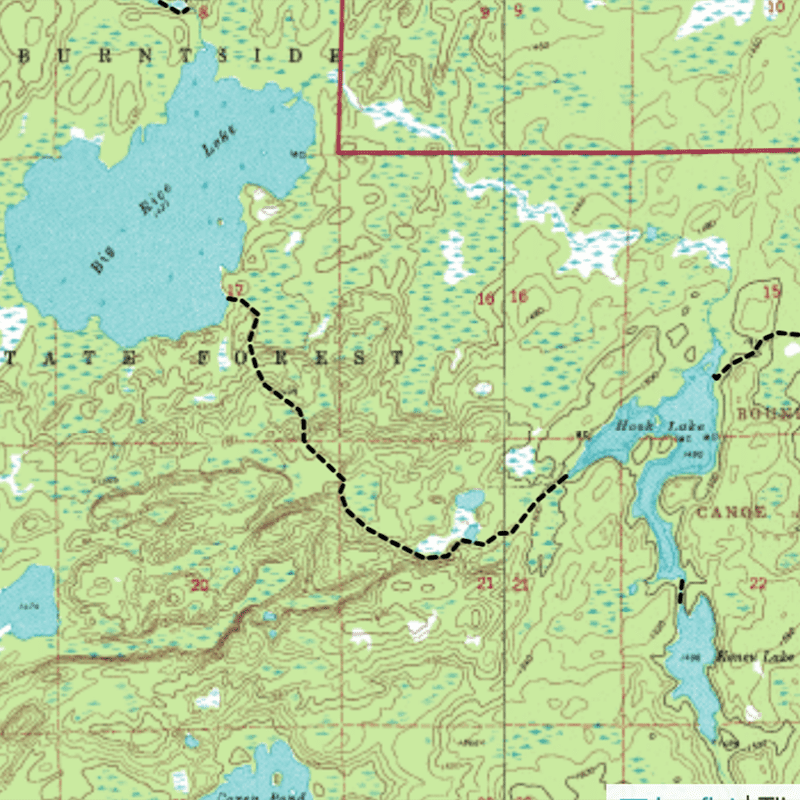 8: Big Rice to Hook
Region: BWCAW
Length: 584 Rods
In much the same way that the Duck to Big Moose portage acts as a barrier between Big Lake EP and the S Moose River EP, this portage acts as a barrier between Big Lake and Slim. Anyone looking to travel between the two small entries must overcome this monstrous portage. At this stage of this list, we see a natural class up. Every portage ranking lower than this one is sub-500 rods, every portage ranking higher is more than 600 rods. The Big Rice to Hook portage is a portage full of variety from muddy marshland to rocky knobs and undulating terrain. It doesn't see much traffic so cairns help keep any adventurous parties on course.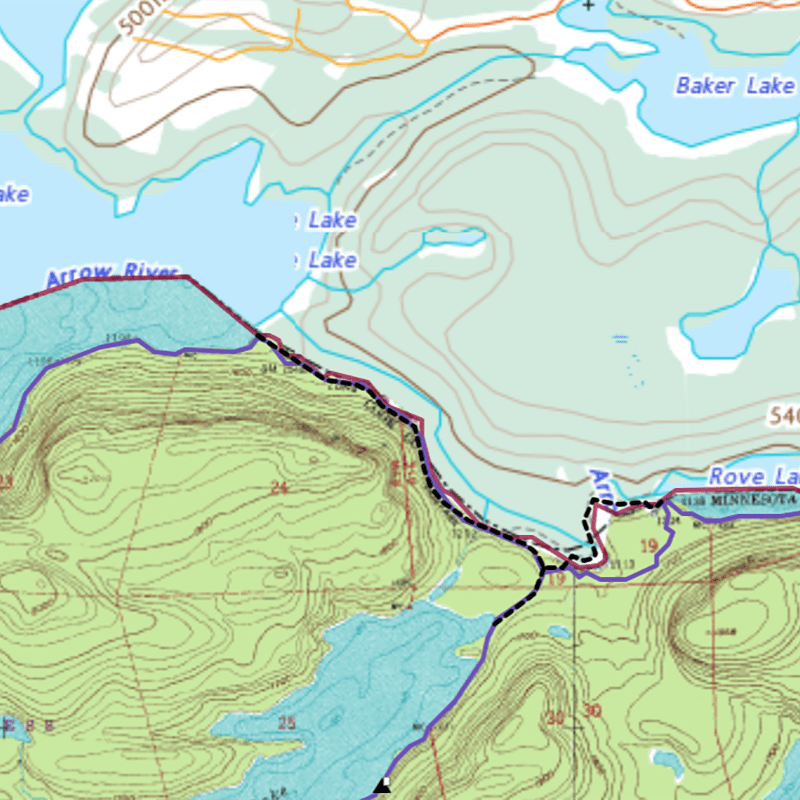 7: The Long Portage
Region: BWCAW
Length: 610 Rods
You can read up on the history of this portage in our article about portages of historical significance (linked above.) As a trail, this portage that's sometimes referred to as the "baby grand" has been changing drastically in the past 25 years. The '99 blowdown rocked the stretch heading to Rove bringing down huge pines along the way. More recently, beavers have been amending the old railway grade which once made the Rose Lake stretch flat and easy. There is now a beaver dam on the trail and floodwaters routinely overflow the path. That said, despite these challenges, this portage is one of the most frequently traveled trails on this list and is easy to follow. It also sits amid the very scenic eastern end of the BWCAW promising just reward for the portaging hardship.
6: Cummings to Big Moose
Region: BWCAW
Length: 623 Rods
Ranking this portage as longer than the Long Portage feels wrong. Maybe it's simply the mystique and the history that surround the Long Portage, but it feels like that trail should be longer. Looking into the data, the Long Portage is frequently cited as longer than this number, but some data has it as shorter which skews the averages. Even if the length of the Long Portage varies by source, we know that 623 is a fairly consistently cited length for Cummings to Big Moose, at least. This is another example of a trail that doesn't see much traffic. Its nearly two-mile course between Cummings and Big Moose has some slight ups and downs and a long boardwalk in the middle. It's a relatively straightforward trail that likely only gets portaged a few times a summer.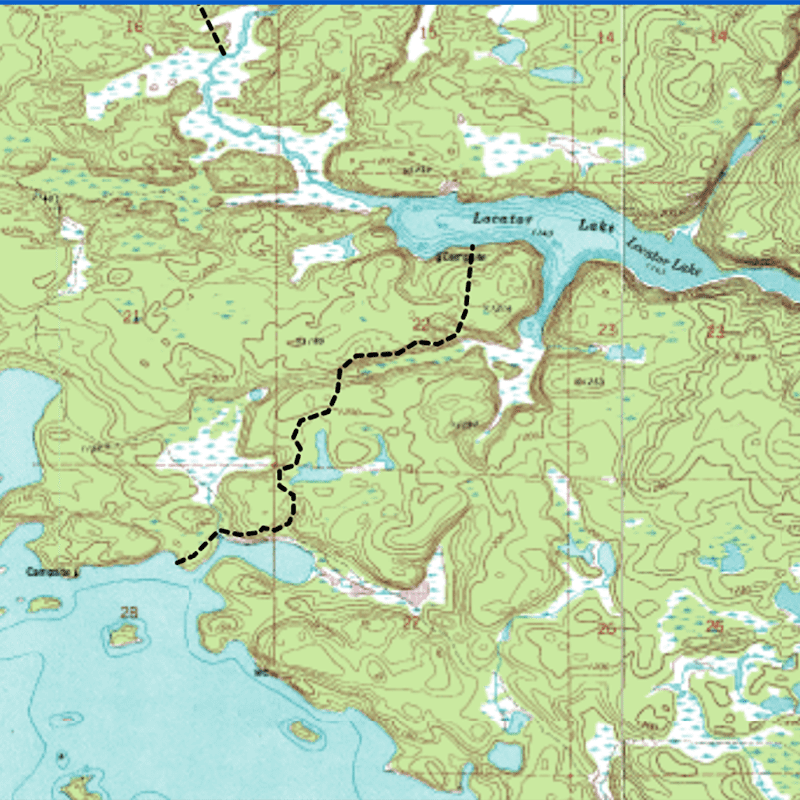 5: Kapetogama to Locator
Region: Voyageurs NP
Length: 637 Rods
This portage is likely most often used as a hiking trail with bathroom facilities available on either end and canoes for rent to avoid portaging your own. That said, it is seemingly built as a portage to allow groups to move into the backcountry of this national park. As part of Voyageurs National Park, rules and regulations are different than in the BWCAW or Quetico with more lax rules on motor travel and different regulations when it comes to campsites.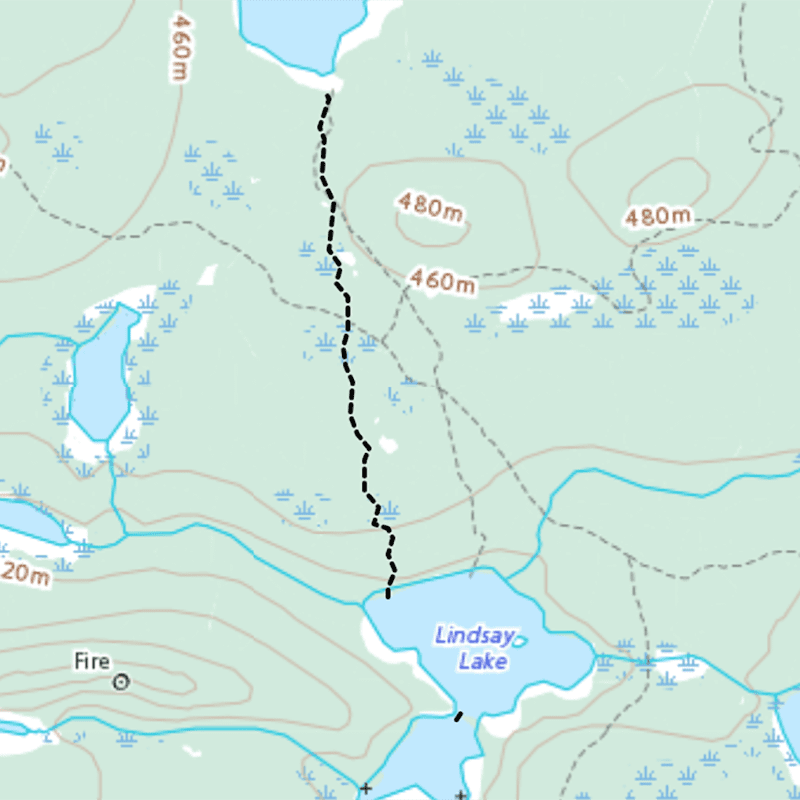 4. Cache to Lindsay
Region: Quetico Provincial
Length: 644 Rods
Near the northeast corner of Quetico Provincial Park sits a mid-sized scenic lake that holds claim to the two longest portages in the Quetico. Cache Lake, by all accounts, is a remote and scenic lake that's hard-earned no matter the direction of travel. From the south, the portage from Linsday is 644 rods of old-growth pines and a bog in the center. It's long but not supremely difficult as Quetico portages go due to the persistent work of the rangers to keep this remote route open.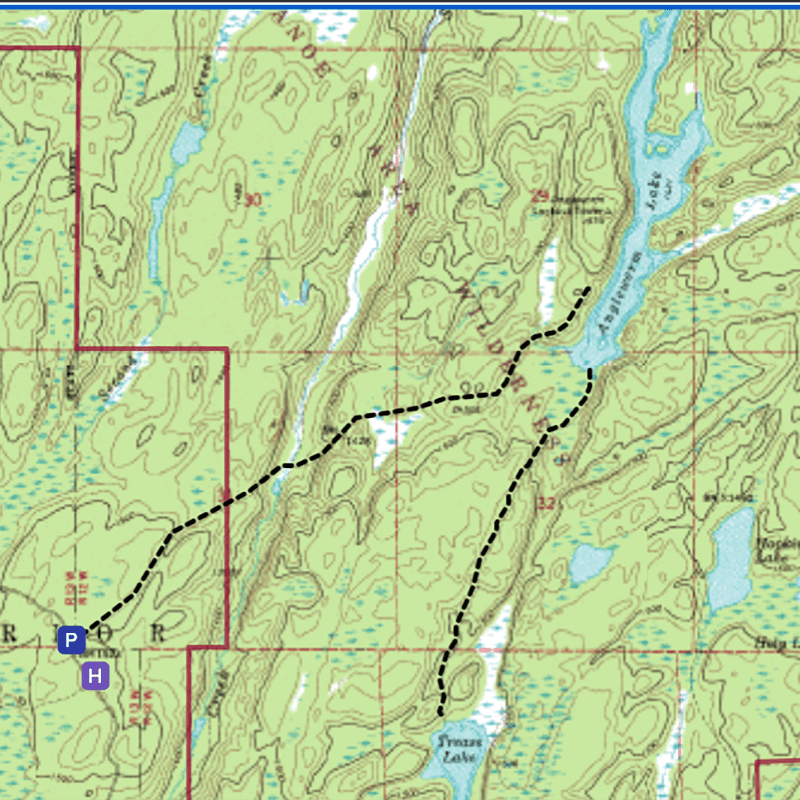 3. Angleworm
Region: BWCAW
Length: 676 Rods
This stage in the rankings feels a little shaky again as Angleworm is routinely marked over 700 rods on canoe maps. From my data set though, its length ranges from 598 rods up to 714. In any case, the portage stretches from the parking lot to Angleworm Lake as one of the most dreaded BWCAW entry points. This was part of the old route to reach the Angleworm Firetower, a fascinating chapter in the area's history. The portage is pretty consistently downhill heading towards the lake with a notorious wet spot in the middle. Exiting from Angleworm is worse than entering and the trail is worth its reputation for the trials endured over its two-mile length.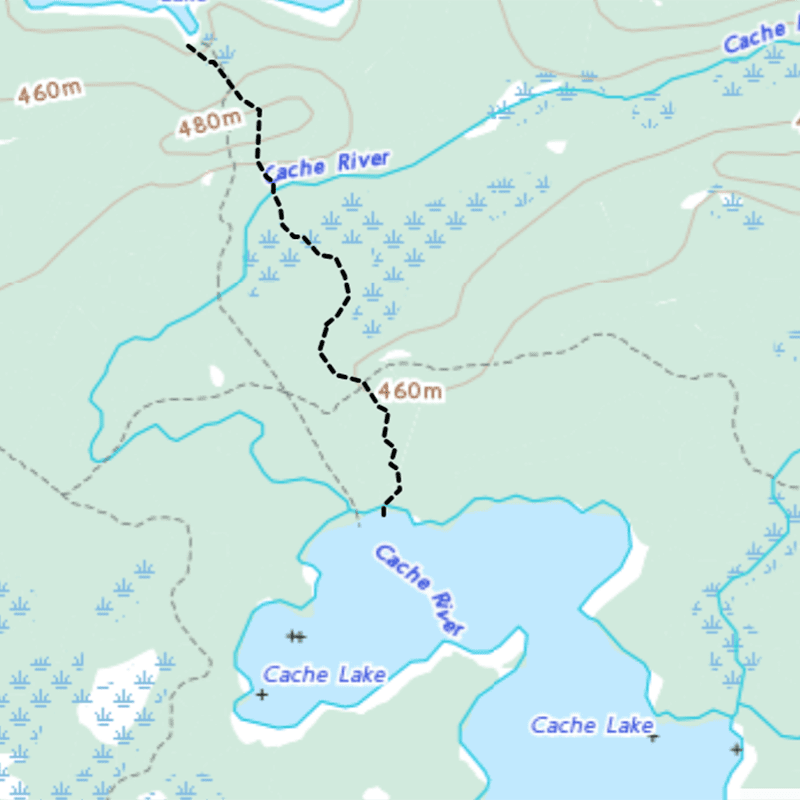 2. Trousers to Cache
Region: Quetico Provincial
Length: 699 Rods
On the north side of Cache Lake sits another two-mile portage opposite the one featured earlier in this list. This portage has a reputation for mud depending on the season. It can be a tricky, time-consuming trail that makes groups wishing to visit Cache Lake earn that passage. The overall length places this portage at #2 on our list while the mud, the tricky footing, and the remote location help cement its reputation.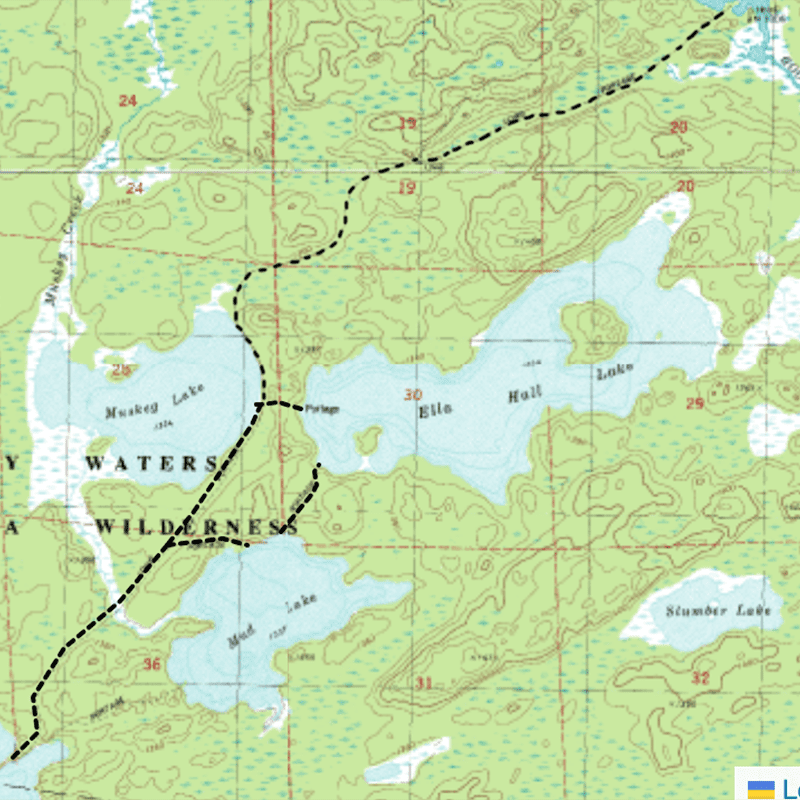 1. Four-Mile
Region: BWCAW
Length: 1226 Rods
Sitting at the top spot on the list of longest portages is the old Four-Mile Portage. Though it doesn't see much summer use these days, it's still a popular dog-sledding route. At one time, this was a railway and then a truck portage. When the truck was discontinued, the portage took a downturn in use and maintenance. Eventually, the portage lost its status as an entry point separate from Fall Lake meaning that no one would be forced to take it to start their trip. A camp or two out of Ely would use it now and again for "staff training" (character building), but the beavers have done a reasonable job of erasing the second half of the trail. In any case, the trail is still mostly there and waiting as one of the most daunting challenges to be found in the BWCAW/Quetico/Voyageurs NP. There are steeper, there are brushier, but there are non longer which earns the Four-Mile portage the top spot on our list.